Service
http://www.adjust-a-brush.com
---
Aladdin Equipment Company is proud to be serving the pool and spa industry for over 65 years, we have become the company that many others imitate but never duplicate. Our catalog and cross-reference guide have become the industry standards.
Aladdin manufactures the most extensive line of baskets, gaskets and O-rings in the industry, together with our Aladdin exclusive Magic Lube®, PSR®Seal, WorldPool® Cartridges, have made Aladdin Equipment the industry leader.
Click here to view our catalog } http://aladdin1950.com/catalog/Aladdin-Catalog-2018.html
We want to thank our valued customers for their role in our success and we will continue to provide you with the highest quality products and services.
---
AquaChek offers a full line of high quality pool and spa test strips and meters to keep your pool and spa water clean and balanced. Trusted by home-owners, professionals, and service technicians, AquaChek test strips are the fast, easy, and accurate way to test your pool and spa.
---
Our History
A Tradition of Excellence Since 1940
1940 – A. O. Smith enters the electric motor industry with the purchase of Sawyer Electric Manufacturing Co., a maker of small-diameter and small integral horsepower electric motors for use in oil wells.
1947 – On April 29, the Whirl-A-Way Motor Company of Tipp City, Ohio ships its first 25 electric motors to Sta-Rite Industries of Delavan, Wisconsin. More than 50 years later, Sta-Rite is still our customer.
1950 – A. O. Smith acquires Whirl-A-Way and consolidates all of its motor operations in Tipp City.
1952 – Century Electric (now A. O. Smith) builds the first low-cost, high-volume permanent split capacitor motor.
1953 – A. O. Smith begins work on developing hermetic motors for the air conditioning and commercial refrigeration industries.
1960 – A. O. Smith introduces the square flange mounting, a concept that becomes a popular alternative to the C-Face motor in the pump industry.
1964 – To meet the growing demand for hermetic motors, A. O. Smith opens a plant in Mt. Sterling, Kentucky.
1965 – A. O. Smith applies the enclosed-canopy two-compartment motor concept to pool pump motors. The design improves motor reliability by separating the switching components from the motor windings.
1975 – Century Electric produces the first UL-approved swimming pool motor.
1976 – A. O. Smith opens its first motor plant outside the United States in Bray, Ireland, to serve commercial compressor customers in Europe and the U. S. with large-horsepower hermetic motors.
1982 – MagneTek's Motor Division (now A. O. Smith) introduces the first triple-voltage, factory-wired "quick connect" fractional horsepower three-phase motors.
1983 – The company introduces the Centurion switchless, permanent split capacitor motors for the swimming pool, spa, and jetted tub industries.
1986 – A. O. Smith acquires Westinghouse Electric's Small Motor Division.
1991 – A. O. Smith develops the first hermetic motor insulation system compatible with R-134a non-ozone-depleting refrigerant.
1992 – The Bray plant earns ISO-9002 certification.
1995 – A. O. Smith develops the first hermetic motor insulation systems compatible with ammonia.
1996 – MagneTek discovers the cause of premature failure in inverter-duty motors, leading to the development of the Speed Engineered inverter duty line of motors.
1997 – A. O. Smith acquires UPPCO, Inc., becoming the world's largest manufacturer of subfractional horsepower C-frame motors.
1998 – The company acquires General Electric's domestic hermetic motor operations, becoming North America's largest manufacturer of hermetic motors.
1998 – York International makes A. O. Smith its Tier One motor supplier.
1999 – A. O. Smith acquires the worldwide electric motor operations of MagneTek Inc.
2005 – A. O. Smith acquires YYZM in YueYang, China
2008 – A. O. Smith introduces new Branding Initiative
2011 – Regal-Beloit Corporation acquires Electrical Products Company from A. O. Smith
https://www.centuryelectricmotor.com
---
Innovative products for the water we drink, use and play in.
SOLUTIONS FOR THE PROBLEMS OF MANAGING ONE OF OUR MOST VALUABLE RESOURCES.
Earth Science Laboratories creates innovative water treatment products for both municipal and recreational use. These include well known and respected products such as EarthTec®, PristineBlue®, EarthTec® QZ and AlgaeShield®. PristineBlue is a residential pool and spa care system that is effective, affordable and easy. EarthTec improves water quality for both municipal and industrial uses. EarthTec QZ is a solution to the increasing problem of invasive species such as zebra mussels.
https://earthsciencelabs.com
---
More meaningful water treatment
Water is a precious resource, and we strive to make it clean and beautiful. Orenda has a philosophy of minimalism. We deliver the best water quality possible, with the fewest chemicals. The Orenda line of professional grade, eco-friendly speciality chemicals help our customers get there.
Want to use less chlorine? Orenda enzymes and phosphate remover can clear the path for chlorine efficiency. Want to dial back how much you're spending on pH adjusters (like acid and sodium bicarb)? Consider using our industry-leading dosing calculator to know exactly how much you need for your pool. Want to protect your pool from surface damage? Balance your water using the LSI, and our scale and metal chelant can help. Looking for that extra shine for the water? Consider our all-natural enzyme clarifier.
Let's stop guessing and "eyeballing it", and let's dial in our behavior and habits. With the Orenda App, videos and product line, you have just what you need to take your business to the next level.
From another league
We are often asked what separates Orenda from everyone else in aquatics. We invest heavily in education, creating the Orenda App, researched articles and informative videos. But ultimately, customers notice the undeniable difference in product quality and strength. Orenda chemicals are powerful and reliable, in part, because most of them were not made for swimming pools. They came from another league; the industrial water treatment league.
Commitment to Science and Safety
Our commitment to science and safety is unparalleled in the aquatics industry. To demonstrate that commitment, ALL of our products are Certified to NSF/ANSI Standard 50, at a minimum. And our enzyme products go a step beyond, as they are Certified to NSF/ANSI Standard 60, the drinking water safety standard. Orenda chemicals are powerful and concentrated, yet safe.
---
Your single source for all of your spa, whirlpool and swimming pool maintenance.
Rola-Chem Corporation has joined forces with Paradise Industries to offer you a complete one-stop shop for all of your recreational water control needs. Quality, maintenance free Swimming Pool and Spa products at value prices.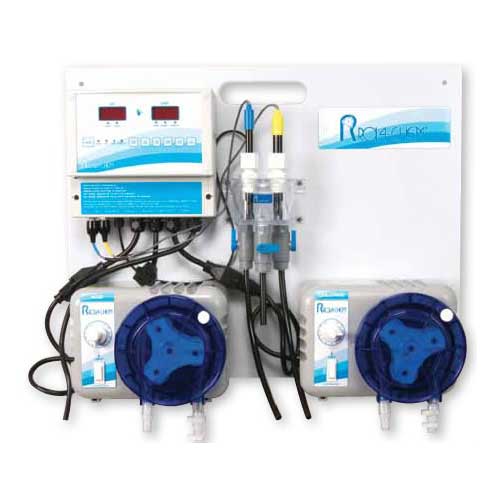 ---